When you register for Learn on the Loo, you commit to raising money for WaterAid and the work we do in ensuring communities have access to clean water, decent toilets, and good hygiene. Toilets are an important part of our work, which is why you can decide how many 'toilets worth' you'd like to raise. One toilets worth equals $40, which is roughly what it costs us to help a family to get access to a toilet. To find out more about WaterAid's work with toilets, visit our 'Why toilets?' page.
But how do you raise money?
To start off, here are a few basic steps to get you going:
Complete your registration by uploading a profile picture and writing a brief explanation as to why you're taking the challenge. The more personalised you make your fundraising page, the more likely it is that visitors will drop you a donation.
Join our "Learn on the Loo" Facebook group to connect with other participants. Our experiences tell us that doing this will increase your chances of raising money by roughly 37%.
Ask someone you know to take the challenge with you. Engaging your friend or family member in a friendly rivalry will make the challenge more fun, keep you more accountable, and make you 43% more likely to raise money.
Once you've set up the basics, it's time to let people know that you're taking the Learn on the Loo challenge. Our supporters are often surprised by how many of their friends and family are interested in making a donation. We're not surprised, though – in fact, did you know that over 80% of adult Australians donate to charity ever year?
During the last fundraising event we ran, these were the 8 most effective tactics our fundraisers told us they used:
"I asked for donations via Facebook"
"My family donated to me"
"I donated to myself"
"I used the features on the fundraising website"
"People gave me money in person"
"I asked for donations from people in my workplace or community"
"I asked for donations via Instagram"
"I asked for donations via email"
Other tactics we heard worked included posting updates on Snapchat and LinkedIn, using a fundraising box, speaking in front of their school/church/workplace community, including notes in their community noticeboard/newsletter, and running a fundraising event.
"I asked for donations via Facebook"
The easiest and most popular way to fundraise is to give your friends updates about your progress over Facebook, Instagram, or your social media platform of choice. Here's an example posts: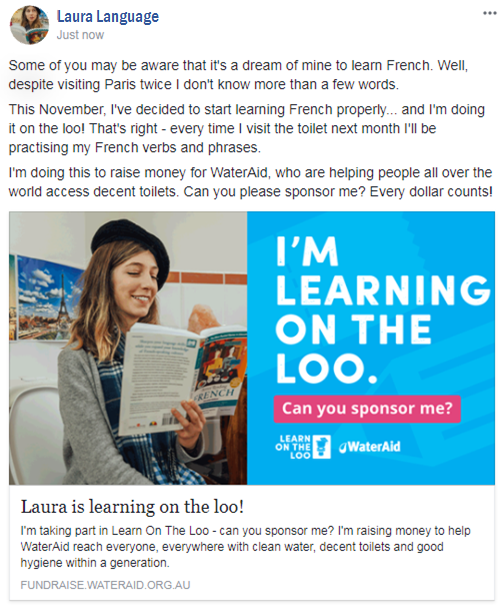 We recommend sharing a few key milestones with your friends:
Before you begin - Immediately after you sign up, let your friends know what challenge you've set for yourself. They might not all donate straight away, but we bet they'll be curious to find out what you plan on getting up to behind closed doors.
Day 1 – Let everybody know that your Learn on the Loo challenge has begun. Remember to let your friends know how many toilets worth of cash you plan on raising.
During the challenge – We recommend that you give your friends an update on your progress at least once or twice a week. If you're feeling brave, take a micro break from your learning to sneak in a toilet selfie every now and then, and share it on social media. Obviously, be mindful of what you're sharing from the dunny - there are some things that can never be unseen.
World Toilet Day (19 November) – This is a great opportunity to reflect on the importance of decent toilets and why they're so important. We'll be creating some content around this time for you to share with your friends.
The final day of the challenge – Your friends will want to know what you've learned on the loo, and some will have withheld their donations in anticipation of your final update. We recommend writing a blog post or sharing a video to highlight all the progress you've made.
Facebook isn't just useful for public posts, though. We find that sending your friends a private note over Messenger or sharing your fundraising page in an intimate Facebook group can be very effective.
"My family donated to me"
If there's one group of people who are willing to talk toilet habits with you, it's probably your family. They already know how long you take, how fast you power through toilet paper, and how you always forget to turn the fan on. They may as well know what you're doing in there!
Tell Mum, Dad, Grandpa, Grandma and your sister and brother what you're learning on the loo and ask them to bring pride to the family name by making a donation. And if you're sick of getting socks for Christmas, it might even be worth asking them for a donation in lieu of a present.
"I donated to myself"
You'll be surprised how nice it feels to give yourself a donation – you feel satisfied in knowing your money is helping to change lives, while feeling the joy of both giving and receiving. Many people like to donate to themselves immediately after signing up so that they don't have to stare at a fundraising page that reads $0.
By putting your money where your mouth is, you're also setting a great example to family and friends by showing them you are invested in the challenge you are taking and the work WaterAid does.
If you're not sure how much to donate to yourself, try using WaterAid UK's Give A Crap calculator to work out how much money you make each month while sitting on the toilet.
"I used the features on the fundraising website"
Once you log-in to the Learn on the Loo website, you can access your fundraising dashboard. From here, you can:
Send emails and text messages to your friends to request sponsorship
Write a thank-you message to everybody that donates to you
Set custom donation amounts and create additional fundraising challenges (i.e. "Donate $20 and I'll write you a toilet-themed poem"; "Donate $50 and I'll mail you a toilet-paper thank you note"; "Donate $100 and I'll do the challenge for an extra week")
Share your page over social media or email
Create a team and invite your friends to join you
Increase your fundraising target
Change your profile picture and event cover photo
Write and share blogs, photos, and videos
Download fundraising resources
"People gave me money in person"
When your friends ask you what you've been up to, don't just say "Not much". Tell them what you've been learning on the loo. Often the best conversations we have don't happen over the internet but in person and your friends and family may well want to donate cash to you on the spot.
Feel free to accept their generosity, so long as you don't forget to donate the money onto your fundraising page. The easiest way to do this is to make a donation to yourself from your credit or debit card. If they'd like a tax receipt, use their name, address, and email address when making the online donation. Alternatively, you can donate the cash directly to WaterAid by using one of our Pay-in forms.
"I asked for donations from people in my workplace or community"
Don't be embarrassed about your toilet training! Let your colleagues, your teammates, your club members, and your fellow congregants know what you're up to. Our workplace supporters are time and time again our best fundraisers because they're able to rally the support of their department or office around their cause.
Here are a few ways you can let people know about your challenge:
Send an email out to everybody with your fundraising link
Set up a WaterAid donation box on your desk
Make a short announcement at a staff or club meeting
Download our "I'm learning on the loo" poster and blu-tack it to the toilet doors
"I asked for donations via email"
After you sign up, you'll start receiving handy updates from our events team every now and then. If any of them inspire you, feel free to forward them to the friends of yours you think might be interested in donating.
If you're not sure what to write over email, here's some sample text you can copy and paste:
Hi ____________
I bet you can't believe what I'm doing this/next month… I'm doing a fundraising challenge from my own toilet!
For the month of November, I'll be dedicating my toilet visits to learning a new skill to raise money for WaterAid. They're a great organisation that's helping to reach everyone, everywhere with clean water, decent toilets and good hygiene normal within a generation.
I'm hoping to raise $___ - that's ___ toilets' worth of money - can you please sponsor me?
My fundraising page is _______________
Thanks for your support. See you soon!
__________________